Rhythm FUS Jam am Eisbach München, Samstag 14.8.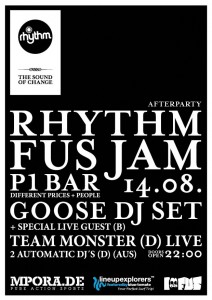 Nur einmal im Jahr – und diesen Samstag ist es wieder so weit: die FUS Jam am Eisbach in München! Eisbach Surfer der FUS-Crew wollen es wissen; sie treffen sich zu einer Surf-Session: Wer von ihnen hat die vergangenen 12 Monate am härtesten an seinen Surf-Skills gefeilt? Wer wird prämiert werden für den progressivsten Trick? Wer springt den fettesten Air?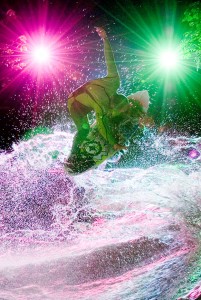 Wer macht den besten Ride mit der besten Kombination an Tricks? Nicht, dass die FUS-Jungs sonst nicht motiviert wären – aber Rampenlicht, Rails und viel Bier pushen sicherlich auch dieses Jahr wieder das Niveau im River Surfen.
Und Rhythm lässt die Puppen tanzen! Wer nicht Eisbach surfen will, kann oder darf, den trägt die Partysound-Welle von Rhythm: In der P1 Bar gleich neben der Eisbachwelle steigt die After-Surf-Party mit GOOSE DJ Set + Special Live Guest (B) TEAM MONSTER (D) Live …2AUTOMATIC DJ´s (D & AUS).
Rhythm FUS Jam, Eisbachwelle München, 14.8.2010
After-Surf-Party, P1 Bar, Prinzregentenstr. 1, ab 22 Uhr
Fotos by Alex Förderer
Posted: August 12th, 2010 under München Events.
Tags: eisbach, Events, fluss, flusssurf, flusswelle, fotograf, münchen, munich, party, river, riversurf, surf, surfboard, surfen, surfer, surfing, wave, welle
Write a comment
You need to login to post comments!