Skate @ Eisbach – KROOKED 3D Video @ Robinson´s Bar München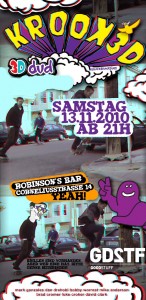 Bevor das Surf-Snowboard-Skate-Filmprogramm im Werkstattkino Ende November startet, gibt's erstmal eins in 3D auf die Augen: KROOK3D – das Skate-Video in 3D! Diesen Samstag, 13.11.2010, ab 21 Uhr in Robinson´s Bar. Robinson´s Drinks und der Film sorgen schon dafür, dass ihr in 3D seht – auch wenn nicht genug 3D-Brillen vorhanden sein sollten! Danach dürfte es wohl keiner mehr schaffen, nachts noch eine Runde Eisbach Surfen zu gehen.
Krooked 3D Skate Video, 13.11.2010, ab 21 Uhr, Robinson´s Bar, Corneliusstr. 14
Posted: November 10th, 2010 under München Events, Videos.
Tags: eisbach, Events, film, fluss, flusssurf, flusswelle, münchen, munich, party, river, riversurf, surf, surfen, surfer, surfing
Write a comment
You need to login to post comments!